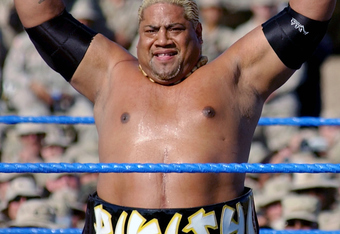 Earlier this week, I was fortunate enough to have a conversation with former Superstar of World Wrestling Entertainment and Total Nonstop Action, Rikishi (Solofa Fatu).
Fatu is the nephew of WWE legends The Wild Samoans and Rocky Johnson. He also is cousins with former WWE Superstars, Dwayne "The Rock" Johnson, Samu (WWF), Yokozuna, and Rosey. Fatu is brothers with Umaga and The Tonga Kid.
Fatu (currently working in Revolución Lucha Libre as Kishi) is the current Absolute International Champion. Working as Rikishi in the WWE/F, he had been in great tag teams such as Too Cool and The Headshrinkers. As much as he was adored by the fans, he could also play the heel as he was the man who had run over Steve Austin.
No matter what Fatu did, he always entertained us. Without further ado, here is my exclusive one-on-one conversation with Solofa Fatu.
Rallo
: Growing up as the nephew of the Wild Samoans as well as Rocky Johnson, the brother to former WWE star Umaga, and the cousins to former WWE stars, Rosey, The Rock, amongst others—can you describe how influential your family was to be a part of the Professional Wrestling Business? Were there others who had trained you or guided you to be one of the most recognizable Superstars?
Rikishi
: For me I didn't plan to become a wrestler . I sorta fell into the family business . 1986 I was invited up to Hamden, Ct to visit for the summer with my uncles Afa and Sika and cousin Samu . The same time my brother was all over TV with the angel of Jimmy Snuka verses Rowdy Piper / Bob Orton .
That night they wrestled at MSG New York that's rite 16 yearr old Tonga Kid at Madison Square Garden as the youngest pro wrestler to ever wrestle there. I was excited to see my little brother wrestle. This was my first ever live event.
That night was an experience for me that I will never forget . I was amazed of how the fans were cheering for my brother and how electrifying the crowd was at every move he was doing.
I couldn't wait to see my brother and ask questions of how it feels to be a wrestler. Of course after i found out how money he made, I started training ..Family was always there for me. I was blessed to have that types of advice all around me during my run . It wasn't but a phone call away. I want to recognize the FREEBIRDS for helping me during my Texas days and on to the WWF/WWE Michael Hayes especially for being there for me. Thanks UCE .(Brother in Samoan)
The rest was HISTORY :)
Rallo
: Now you have been in some very fascinating storylines throughout your career. Could you tell us what storyline you have been involved in that just surpassed any other? One that made you more and more anticipated to show up to the arena every week that you were just so excited to do?
Rikishi
: SST (Samoan Swat Team) of course .Back in the TEXAS days working against Michael Hayes and "DO IT TO IT" Steve Cox from Tulsa Oklahoma . This angel must of ran for 2 yrs straight. It became a dance that was so easy it was a night off every night working with this guys.
This was four guys putting their ideas together and making it happen. TV was fun because Michael always had ideas up his sleeves. Always wanted us to steal the show. And we did. It was exciting for awhile but after we wanted bigger things and moved on to NWA to face the ROAD WARRIORS HAWK ( R. I. P ) and ANIMAL …..
The rest was HISTORY :)
Rallo
: Now as you are currently working in Revolución Lucha Libre, could you give us some more insight on that promotion? Seeing as you are the current Absolute International Champion, could you tell us how it differs from working in a much larger company such as the World Wrestling Entertainment/Federation and representing the company with one of their championships?
Rikishi
: First I am proud to represent the RLL as their current CHAMPION . RLL promotions / staff is a small fast growing company out in CHILE. Beautiful place. They have all the right tools to become a BIG company out there. If they believe in their product sky's the limit.
Do they have the "passion ?" Yes. Are they "professional?" Yes. Do they have big " investors?" hhhhhhmmmm . Don't know. Anyways that's what its going to take is for RLL to survive the storm of the wrestling business.
Time will tell for the future of RLL says the RLL Champion yours truly. WWE they're on a whole different level. A big company with lots of politics/and kaos ..
The rest is HISTORY :)
Rallo
: Since leaving the WWE, do you still follow it? If so, seeing as you were the nephew of The Wild Samoans as well as being part of tag teams such as Too Cool and The Samoan Swat Team. What do you think of how WWE treats the tag team division today, seeing as tag team wrestling was a very substantial part of the sport not so long ago?
Rikishi
: No I don't watch it to much anymore . Only when a few OLD SCHOOL friends come on I will for a minute, But other then that NO . Just to boring . Not Entertaining for me.
I think that pro wrestling has gotten away from what made pro wrestling and that is creating characters that fans like and good easy storylines … Easy to follow . Easy for the kids to understand …Also fun for the adults too.
Tag team was always used as a featured added match . Is to support the main event on the card . At least that's my experience . The rest on tag team TOO COOL ,SST , HEADSHRINKERS is HISTORY :)
Rallo
: If you were every given the chance to start over your career as a professional wrestler, would you do it? Are there any regrets that you made in any wrestling territory or are there any mistakes you made that have affected you on your mental and physical state of being?
Rikishi
: Of course I would. I've had a blast and still am . I have no complaints about my career . Its been awesome to travel all over and meet different peoples of the world. I miss the FANS and some of my co-workers that are my true friends . But I am most happy to be home with my family now . And teaching at my wrestling academy
WWW.KNOKXPRO.COM
.
Its passing on the skills to kids that want to learn pro wrestling from your truly …. The rest is HISTORY :)
Rallo
: Some may not be aware, but you are one of the leaders in the Knox Pro, which is a wrestling academy, could you give us some insight on that?
Rikishi
: I have a great passion to teach the kids about what pro wrestling really is about . Its so much more then just jumping around in a ring. Black Pearl /Gangrel/Orlando Jordan and myself have come together to open the doors of KNOKXPRO ACADEMY " THE DOMAIN " to give opportunity to those " Who Wants To Be The Next Big Thing " in pro wrestling .
We offer over 40 years of experience … Where the CHAMPIONS PLAY … Check it out :
WWW.KNOKXPRO.COM
Read the site for more info and you got it. The rest is HISTORY :)
Rallo
: For a short time, you had also work for Total Nonstop Action. Could you tell what the atmosphere of TNA was like opposed to the WWE? Also could you inform us on what exactly happened during your departure?
Rikishi
: TNA ( Small stack ) nothing like WWE ( Big Time ). My departure from TNA was my decision .. The rest was HISTORY :)
Rallo
: Finally, would you ever consider that one last run in the WWE? Any last words for the readers of this interview?
Rikishi
: Well never say never . Depends :) But I would like to thank my fans threw out the world for all their support threw my career . It has truly been fun for me entertaining for you's in arenas / coliseums all over the world ..
Keep in touch threw
www.knokxpro.com
I miss you all . The rest is HISTORY :)
Rikishi
: With respect,
RIKISHI
Gracias Armano , Thank You
Well that concludes my interview with Mr. Fatu who was gracious and kind enough to take time out of his busy schedule to take time to answer my questions.
Hopefully this is the first of many potential interviews and also be sure to check out his training facility's official website which was provided in several links in this interview.
I hope you enjoyed this interview as much as I did conducting it.
The rest is History…