Prior to UFC 136, the notorious loudmouth, Chael Sonnen had been far more quiet than one would expect coming in. Of course, UFC fans alike would notice his charisma and his signs of obvious personality here and there, but not the boastful loudmouth antics we had all been used to. Epic rants aside, Sonnen would be preparing for his big fight with up and coming, Brian Stann.
The evening of the PPV event at the Toyota Center in Houston, Texas, Sonnen and Stann would encounter each other one on one in a middleweight bout. Sonnen proved top be quite dominant in the fight, winning via submission in the second round. After this dominance over a talented fighter in, Brian Stann, the post match interview is where Chael Sonnen would really make the event worth purchasing.
During the post match interview, Sonnen finally unveiled the side of himself that we had not seen from him prior to the big fight. As talkative, brash, and confident as ever, Sonnen had called out Anderson Silva for one more fight, following their classic at UFC 117. Just as he was being questioned about his feelings on his win over Stann, Sonnen immediately disregarded all comments and went on to say, "Anderson Silva, you absolutely s**k." Silva was seen almost laughing in the crowd as he was sitting next to NBA legend, Charles Barkley. Sonnen went on to add a stipulation and a destined time for this rematch. Super Bowl weekend, and the loser leaves town. Silva will leave the division or Sonnen will depart from the UFC entirely.
At the end of the event, interviewers were able to catch up with Sonnen and further inquire about his previous comments in regards to the, "Greatest in the World," Anderson Silva. Sonnen later went on to say that, "I defended my championship tonight for the first time, and I am willing to give Anderson a shot at the true belt, the linear belt, the people's belt for the best damn middleweight there's ever been." Referring to himself as the, true champion, Sonnen walked out. One can only imagine the money this bout will now draw and the wealth Dana White will acquire from that. If the UFC wasn't on enough of a roll as it is, the fire is now white hot heading on from this point on.
When one looks at UFC today, you are instantly attracted to the cool factor it produces, the sheer intensity and passion of the fighters, and the unreal atmosphere of the fans. Celebrities, athletes, and the cream of the crop all come together with a rabid UFC fanbase to produce some of the greatest atmospheres at an event ever. People cheer on as the true, "Modern Day Gladiators" go head to head in vicious, gruesome, technical competition. Nothing has been as successful since, of course....World Wrestling Entertainment's hot run from the mid 1990s to the early 2000s.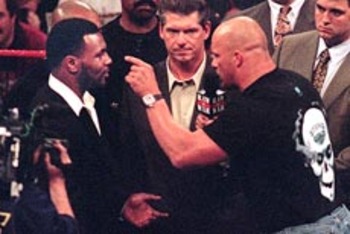 The "Baddest Man on the Planet" meets "The Toughest S.O.B."
Known as the, "Attitude Era," of the 1990s, the then, World Wrestling Federation had never been more popular. "Stone Cold" Steve Austin was whooping carcasses, The Rock was electrifying every single crowd he had traveled toward, Edge and Christian were "reeking of awesomeness," and so much more. At this time, much like UFC today, it was the coolest and most entertaining event to attend when it came to your local area. Buyrates for pay per view amounts were insane, and merchandise sales had never been higher. All celebrities were immigrating over just to be a part of such an intoxicating, thrilling experience!
Now what exactly was it that attracted all of this involvement and brought in so much media attention and profits? It was the sheer fact that things were new, things were revolutionary, and it was fun! Violence brings in viewers, as does passion and entertainment. People will pay to see tough bastards go toe to toe in the ring and excite us on the microphone. At first glance, UFC is exactly what was once cool with WWF, with one exception. UFC is violent, it is entertaining, and it is exhilarating to watch, but it always lacked the consistency of being able to sell PPVs and tickets due to the fact that it could not draw on much else besides the match cards.
Before UFC die hards get on my case, let me explain. Yes, Chael Sonnen wasn't the first guy to sell a PPV or make people want to see a fight. He was not the first charismatic individual to connect with an audience to truly garner a reaction. However, this is a method used very on and off by UFC fighters in post match interviews, press conferences, etc. Sure, these guys are hot heads who want to beat each other up, but has it ever fully been used to Dana White's advantage? Has the art of cutting promos and entertaining with a microphone been something UFC has really thrived on? No, it hasn't. The cult of personality is there, but it hasn't always been something utilized to its fullest potential. I'm here to claim, it is something Dana White should and most likely will consider using a lot more often.
UFC already has one of the biggest fanbases in the world today, just based on what they have done this far. Dana White has made this form of entertainment thrive and prosper not only past such large corporations such as, WWE, but in record numbers. UFC events have been selling out like never before and have taken so much of WWE's fans and PPV buys, that it is unreal to think the second biggest global phenomenon is so far in back of the brawling fighters. To take the next step, it is time to let those who can talk, speak their mind and sell the events. When you hear Chael Sonnen talk, people listen. Why? He's entertaining. People want to hear what he has to say. Promoters all over have really let the art of talking die, which has always been a shame.
The most recent example of using words to sell an event was this past July at WWE's Money in the Bank PPV. There, Vince McMahon realized that CM Punk was more than a voiceless mid card name, and it led to one of the greatest crowds WWE has seen in years on top of having a 20% increase in PPV buys compared to last year's event. CM Punk became a mainstream media darling, as people had been uncertain if he was going to leave the company with the WWE Championship and followed his every move. This is what WWE has lacked and only does once every few years. Punk had a legendary few months and single handedly made wrestling fun to watch....before returning to the overcomplicated statuesque it once was and now continues to be.
Selling events in a way such as this really is not all that complicated and adding big stipulations never hurt. Chael Sonnen simply stated to Anderson Silva that...
We have fought before and we need a rematch to settle things
I am the best middleweight today
You s**k and I hate you
That's about all you really need to say in order to initiate a fight, no? Sonnen is a confident, arrogant, personality that wants another fight with someone who has been proclaimed the, "Best in the World." If you can talk well enough, you can sell it very simply and it will enhance the product greatly. If Dana White were to expand on this and use this to his advantage, there would without a doubt be an even larger growth for the promotion as a whole, that would continue to prove just how obsolete and overcomplicated WWE has become today. If you follow WWE, you know what I mean. Storylines consist of who sent the text message, who is the leader of the company, who trusts who, and it really has all become one big pile of confusion and insanity. Not to mention lack of blood, prestige to championships, or larger than life stars.
Let two guys who hate each other try and kill each other for the most prestigious prize in the business. If done right, it never fails. Chael Sonnen has further proven that and if Dana White lets this rematch happen at Super Bowl weekend with the "Loser Leaves Town," stipulation, it will be one of the highest grossing events in UFC history. Why? People will want to see the guy who has been running his mouth collide with one of the best middle weight fighters to ever grace the octagon. Whether it be something staged that White tells the fighters to do post fight or if it is something the fighters, themselves come up with, this is a method that should without a doubt be taken advantage of more often. The result? An even bigger push to any competition, and an even more prosperous company than before.
Nervous, McMahon? Your nonsensical yes men may tell you otherwise, but this company is the biggest threat Vince McMahon has ever seen and UFC will continue to bury them until WWE gets with the times. UFC is bringing in your audience and you respond by bringing The Muppets to Raw on Halloween? You decide who has lost sight.