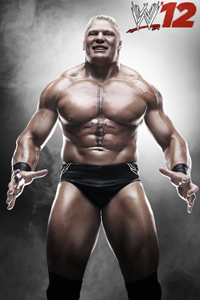 Arguably the greatest pure athlete to ever grace the squared circle AND the octagon, Brock Lesnar has seemingly broken down any barriers between himself and his original stomping grounds, WWE. Recently confirmed by every major "newz" media writer and their mother, "The Pain" has agreed to a contract to WWE that will allow him to be in video games, have more merchandise, etc in a contract similar to a Legends contract. Either way, the most athletic big man in history is back in WWE after seven years away from Pro Wrestling action.
To the disappointment of many fans across the WWE Universe, Brock attempted to pursue a career in the National Football League, and later, the UFC. Lesnar had become far more successful in his latter effort and became the highest paid MMA athlete as well as one of the most popular UFC fighters of all time. Known for his cocky attitude and renowned to many as the, "Baddest Man on the Planet," the former UFC Heavyweight and WWE Champion will be crossing over once more to be featured as a Legend, in WWE's most exciting video game, since ironically, Brock Lesnar's, "Here Comes the Pain," years back.
While fans across the board will always wonder about Lesnar's questionable return to WWE for one last match and who he should face, that is still a big question to all. However, in WWE '12, you can now have Brock take on the likes of CM Punk, in a battle of the Paul Heyman guys, Randy Orton, The Miz, or even the likes of Steve Austin and Arn Anderson. For all I care, Lesnar can face Michael Cole. The possibilities are endless as one of the baddest and most popular figures in UFC and WWE, will now be in the next upcoming video game, produced by THQ.
Now, moving on from the news, itself, the true story is what exactly this means for both major companies going forward. Although Lesnar is the most successful crossover talent in history between the two styles of competition and/or entertainment, this could potentially pave the way for even partnerships between WWE and UFC in the future. Dana White will clearly not just hand one of his biggest attractions back over to Vince McMahon, but could it open the door for promotion, merchandise, crossovers, amongst many other possibilities for both companies. Personally, I feel as though Lesnar may be a lone exception as of right now, but the potential for a deal between these two promotions would be historic. WWE doesn't view UFC as competition and UFC is crushing WWE, so there really is no official "war," so to speak.
Again, the relationship between White and McMahon has been anything but rocky. Mutual respect and apparent meetings between both geniuses have been confirmed to take place here and there, as that can only mean both companies benefit. Of course, it wouldn't be a regular thing to have UFC fighters be on WWE television and vice versa, but from a promotional or merchandising standpoint, it would be a fantastic partnership between both companies. I have been critical of WWE for their need to evolve, but this partnership would without a doubt be exciting. The excitement that can generate from the likes of, Brock Lesnar appearing on WWE products is electric.
Am I stating that this partnership will happen and will succeed? Not necessarily, as we don't know what can honestly happen. UFC is white hot and WWE is bottom of the barrel programming, so who knows what is going on? Either way, Brock Lesnar joining WWE's roster in their upcoming video game is without a doubt huge to all those who are still believe that, "WWE: Here Comes the Pain," is the best WWE video game ever, released when Lesnar was the biggest attraction, WWE had to offer. No matter what happens, we can at least agree that Lesnar in WWE will kick some serious a**.
Whether it leads to a potential partnership or a one shot deal here, it is always fun to speculate, no? Brock Lesnar agreeing to work with WWE is a bigger deal than some may believe it to be. There are so many possibilities for Lesnar, as he is now the pioneer of future crossover talent, looking to find success in both, fighting and wrestling. I suppose, now more than ever, the demand for Lesnar on WWE TV will be at its peak, and for good reason. It is time for WWE to jump on this opportunity for Brock, because it will make WWE flourish and provide a show people will care about. UFC could learn some things from WWE and WWE could learn some pointers from UFC.
Call it stating the obvious, but this is a big deal and if it ends up leading to nothing....Hey, you can kick the asses of your least favorite WWE Superstars with an F5, courtesy of, "The Pain."