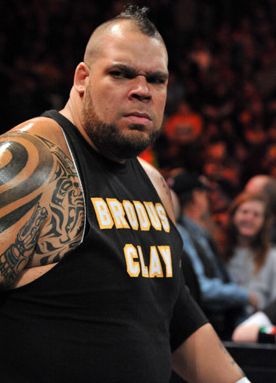 Unstoppable. Behemoth. Mastodon of Mayhem. Monster. The Fall of Humanity...
All of these phrases and choice words can all be used to properly summarize who Brodus Clay is and what he represents. At almost seven feet tall and weighing in at approximately four hundred pounds, Clay is a dominant force that will look to reignite his path of destruction on the WWE Universe, starting on November 7th, 2011.
Initially debuting in WWE on NXT: Season 4, Brodus Clay was a standout performer amongst the cast of "Rookies" that also partook in the competition. Although falling short of victory in the season to New England native, Johnny Curtis, Clay vowed his vengeance on all the fans that shattered his dreams of being the next breakout star. As for Johnny Curtis, he fell into the dark, melancholy, shadows of obscurity. Clay, on the other hand, accompanied star on the rise, Alberto Del Rio not too far after the climax of the fourth season of NXT. Clay's massive and intimidating presence aided Alberto Del Rio, who was on his path to WrestleMania 27 in pursuit of the World Heavyweight Championship.
While one, Johnny Curtis was nowhere to be seen, "Big Bad" Brodus Clay had a multitude of encounters with some of the biggest stars in the WWE today such as Edge and Christian, just to name a few. Brodus even walked down the aisle with the "Mexican Aristocrat," in front of the millions at WrestleMania in one of the main events. While all of these feats are great for a wrestler in his first year, the former bodyguard for Snoop Dogg had seemed to lose his streak of dominance due to several losses on the Road to WrestleMania.
The rapid decline of Brodus Clay would continue on after the 2011 WWE Draft, when his mentor and friend Alberto Del Rio would be heading to Monday Night Raw. When inquiring about what was next for himself, Clay was denied any slight acknowledgment from Del Rio, whose focus was solely on himself and his witty ring announcer, Ricardo Rodriguez. For the first time in his career, Clay was on his own, but he disappeared from television for a good amount of months. Next stop: WWE Superstars.
WWE Superstars would be the new home for Brodus Clay, as he took out anyone in his way for the next several months. After his hiatus, Clay was now reborn. Clay was a new man. Clay had once again found his inner monster that inflicted fear and intimidation amongst all of his adversaries. Finding this "inner monster" was the key for this mastodon to one day become one of the biggest names in the wrestling industry for years to come. Introducing himself as, "The Fall of Humanity," he squashed all of his opponents. Such as the world falls on the weight of our shoulders, Clay represents the harsh reality that falls amongst us all. Following his reign of domination over everyone and their mother online, it was time for Clay to move on upward to the staple of the WWE, Monday Night Raw.
Since departing from WWE Superstars, several packages had been shown warning the WWE locker room of Clay's impending grand re-entrance to the WWE Universe. Being billed as, "The Monster in Our Closet" and, "The Thing that Goes Boom in the Night," Brodus Clay is now prepared to write his name down amongst the great monsters who have stepped foot in the squared circle. Now on his own, finally without anyone holding him back, the monster is now on the road to Raw, much to dismay of the WWE Superstars. The monster is finally being unleashed....
When one prepares for the return of a newborn monster, there are many questions that can be risen. Can this man truly even wrestle? Can this behemoth entertain and solidify his legacy next to the likes of Big Show, Andre the Giant, Abdullah the Butcher, and The Undertaker? Besides Mark Henry, the lack of true big man forces have lacked over the years. We have yet to see and be introduced to the modern day, 2011 version of a monster. It wasn't The Great Khali. It wasn't Big Daddy V. It IS "Big Bad," Brodus Clay. If you have seen WWE NXT: Season 4 or any of his bouts on WWE Superstars, it is undeniable of just how good Brodus Clay truly is. He can speak, he is an intimidating monster, he is unique in a way where he is different than any WWE Superstar before him. Think he can't speak? Take a gander of Clay's promise to the WWE Universe that followed his final day on NXT, where he suffered his first "heartbreak" in WWE.
On top of being such a good talker, the one quality each successful monster must have, is ability in the ring and sheer athleticism. He may not be able to do moonsaults that Vader could do, but he is one big, athletic, four hundred pound monster. He's quick on his feet, he's one of the most powerful members of the roster, and he has the look that can sell tickets. What else can you possibly need? Want to see examples of his athleticism, ability, and domination? Take a look out of one his countless bouts on Superstars and his hype promos for Raw....What's not to be impressed by? Here, I introduce to you is known as, The Fall of Humanity.
To simply put it, Clay is a factor and a major player for the WWE for years to come. He has it all and mark my words, he's the real, "Next Big Thing." Clay is dedicated. Clay is passionate. Clay has it all and Brodus Clay is coming to a venue near you. Watch out, WWE Universe, Brodus Clay's time is upon us and there's nothing more for us to do than simply watch him rip it up. If all goes right in WWE Creative and if Clay continues to improve himself and not make mistakes, we're in for one Hell of a treat in this sheer talent. Get ready folks, he is coming and he is coming with a vengeance.